Hotrods to Hell Centerdrive™ Truckarm Kits
Kits built for other vehicles are available for special order. Call for more details on you application.
The Hotrods to Hell Centerdrive™ Truckarm kits bring technology developed over the past 30 years in NASCAR to your classic Hot Rod. Finally you can experience the ultimate live rear axle suspension formerly reserved for Winston Cup®, Busch Grand National®, Craftsman Super Truck® and IROC® drivers! These rear suspension kit lets you have it all! Unparalleled cornering ability, a plush ride you won't believe, and at the drags this set up hooks hard and goes straight. We have been building CenterDrive cars for over a decade and we are more then happy to answer any questions that you might have about our kits. So feel free to drop us a line.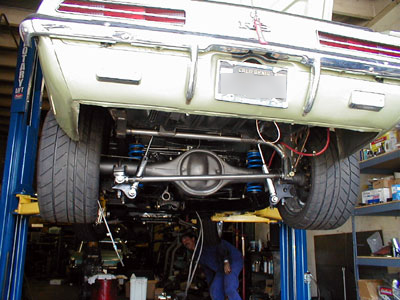 All out CenterDrive Kits are designed so that they can be installed by a do-it-yourselfer in one weekend. If you can use a welder, a tape measure and have a set of jackstands and a basic tool set you can install this kit in your garage.
We install every product that we make at our Corporate Headquarters located in Anderson California.
Now Available, Individual Crossmembers, for those that want Do-It-Yourself.
Call (530) 365-6561 or email sales@hotrodstohell.net